*Updated* Pregnancy Freebies Roundup
An extensive list of FREE products related to pregnancy, motherhood, children and more!
Get $20 Shutterfly gift cards, nursing pillows, carseat canopies, breast pads, formula, and much more for FREE!
---
UPDATED

---
Are you pregnant, a new mom or know someone who is? Here is a roundup of current pregnancy/baby freebies! Some of these make great, inexpensive gifts for those expecting mothers in your life! So here's the list (and feel free to let me know if you have any to add!)
(I've added a section at the bottom of this post for freebies, samples, and trial offers that are not directly pregnancy related, but might be beneficial to you as well!)
Create an Free Amazon Baby Registry and receive a Welcome Box!  According to Amazon, for a limited time, starting November 26, 2016, the box will include SwaddleDesigns blanket, a Philips Avent 4oz baby bottle, a full pack of Elements sensitive wipes, a baby toy from Kids II or Oball and more inside.  Directions will appear on your registry dashboard after you create it.

If you're a sports fan, you've got to check out LittleFans.com

They sell NFL and NCAA branded baby items like pacifiers, shoes, bibs, cups, bottles, etc.  While you will have to pay shipping and handling (usually around $13), if you use code TFF17 at checkout, you'll receive $35 off your order.  And you can use it as many times as you want.  With the code, you can definitely score some free items (+ S&H) or almost free items, depending on what you pick out.

These are some of my favorite freebies!  Everything in the photo above is FREE with the coupon code.  The catch?  You have to pay shipping.  I know, that technically doesn't mean it's "free," but the item itself is free, and it makes them a lot less expensive than the name brand counterparts.  Shipping varies depending on the item, but is usually around $10.  Here are the links to each of the items.  Use code TFF17 for all of them 🙂
Note: Codes can be used as many times as you want in separate transactions!
Use Earth Mama's Free Birth Plan generator to simplify the process of mapping out your desires for your baby's birth. This is also a great tool to knowing about options you may not have known about or considered yet, as they are all listed for you to choose from. Once you've completed it online, it will be emailed to you to print out. Give a copy to your doctors, midwives, birth team, family, etc. This will help ensure everyone is on the same page.

When I completed my birth plan, it gave me a coupon code for 15% off! Did you get one?


Oh my goodness, these are so adorable!  Check out all the options over at Eskimo Kids and use code ThriftyFree2016 to receive $35 off!  That makes the hat free, and you just pay shipping & handling!

I have strong opinions about commercial formula, but I am writing about the Similac Strong Moms program because they send you $20 to Shutterfly for Baby Announcements, and that was worth me signing up for a FREE account. They will also send you sample cans of formula, which I've just donated in the past.
As a side note, if your baby can't breastfeed and you want an alternative to commercial formulas, check out Beautiful Babies: Nutrition for Fertility, Pregnancy, Breastfeeding, and Baby's First Food. It's a wonderful book full of practical information, and there's a great recipe for homemade baby formula in it as well.
Get 3 of these adorable Ruffle Buns for FREE using code THRIFTYFREE2016.  Just like the other deals, you do need to pay shipping & handling, but the three pairs themselves are free.   Shipping is usually around $15 for these.   You can also use the code as many times as you want in separate transactions!
Qeepsake is an easy way to save memories, photos and milestones for your children.  When you sign up with Qeepsake, you'll receive customized journal prompts via text message.  Simply reply to the text message and Qeepsake records your answer in a journal entry.  You can have multiple journals for multiple children, and best of all, you order your Qeepsake entries in book form whenever you'd like!  It's such a simple way to created a custom baby book!  Everyone who signs up receives a FREE 14-day trial membership of Qeepsake!  No payment information is needed – just sign up and after the 14-day trial is over, your membership automatically converts to the free Qeepsake Lite plan.  All your entries are saved and accessible regardless of which plan you choose, so you don't have to worry about losing any of your journal entries!  I'm really enjoying my Qeepsake membership for keeping track of memories for my three kiddos!
Planning on starting a baby registry somewhere? Several stores offer "Welcome Gift Bags" for registering with them, including Target and Babies R Us. I haven't personally gotten one from Babies R Us (I didn't register in-store with them when I was pregnant with C), but I did receive one for registering in-store with Target. My welcome pack included coupons for tons of items including bottles, diapers, wipes, pacifiers, maternity clothing, swaddle blankets, nursing tanks, and more. There was also a $20 Shutterfly voucher in the bag (my favorite!), as well as disposable nursing pads, a sample diaper and wipes set, and sample baby care products. I'm sure each location will vary a little bit, but it was worth it to me to pick one up (and it's free, so why not?). I haven't registered for this baby yet, so I'm not sure what exactly comes in the current pack, but I did call my local Target store and they confirmed that each store does it. Just go to guest services and ask to register. They will help you set up the registry and the little scanner gun. If they don't hand you a welcome pack, just ask. Sometimes they might forget.
Also, when I made my first purchase at Motherhood Maternity, they put my due date in their system and gave me a welcome pack. It included a $20 Shutterfly voucher, as well as coupons for Fisher Price items, babycare products, Cord Blood Banking, and other baby items. I can't remember the rest of what was in it, but if you plan on purchasing something there, make sure to ask for one if they don't give you one to begin with. I was able to use all the Shutterfly vouchers I had from the different welcome kits to buy photo books of C's first year (I did a book every 4 months).
New customers can get 50 FREE 4×6 photo prints from Shutterfly! Perfect for all those pics of your new little one!

Note: Shipping is not included.
*** The Honest Company just released an entire new line of Baby Feeding Products, including Lactation Support Supplements and Organic Formula! While the formula trial isn't free, I thought it was worth mentioning because it's a great value! Get a full-size bottle of Organic Honest Company Formula for $12.95 shipped!***
Get a FREE trial bundle from The Honest Company! Just paying shipping, which is $5.98. The bundles include the following:
Trial Size Honest Shampoo & Body Wash, Lotion, Laundry Detergent, Healing Balm, Hand Soap, and sample diapers and wipes to try.
I received my trial bundle and LOVE the products! I love the cute designs for the diapers, and that all of the products are health and environmentally-safe products!
Please note that by ordering the sample bundles, you are enrolling in a monthly subscription of Honest Company Products. However, you can cancel at anytime, and if you cancel within 7 days of receiving your Free Kits, you will not be charged anything.
Also, if you refer a friend, you can earn $20 towards your next purchase!
Tip: When deals like this come up and require enrolling in a subscription program, I always add an event in my calendar on my phone with the customer service number and set the reminder for a few days before the last day to cancel. This allows me to try deals without worry of forgetting to cancel!
FREE Women's, Maternity & Kids' Clothing with FREE $10 Credit!

Have you ever heard of thredUP? It's basically an online consignment shop for kids and women's clothing, shoes and accessories. I LOVE thredUP and have purchased 95% off C & E's clothes for the past 3 years off of the site, as well as some clothes for myself. Great brands at great prices, and I don't have to go search through the racks at the local thrift or consignment shop with two kids!

All items are in new or like new condition. If something has a small flaw, it will be marked by "Tiny Flaw." And there are plenty of items that are new with tags also! I've gotten baby clothes new with tags for baby shower gifts and no one would ever know I bought them at a discount!

If you've never signed up for a FREE thredUP account before, sign up through this link and get $10 credit! You'll get $10 off your first! There are tons of items under $10, so that makes for free items! Just pay shipping, which is a flat rate of $5.99 or FREE on purchases of $70 or more!
Other Freebies & Deals You Might Like

I love sleep, but when I was pregnant, it was so hard to get comfortable. I would toss and turn all night. I eventually used a body pillow for some relief, but this new pregnancy pillow looks amazing and has support for your belly, back and legs also. These retail for $89-$99, depending on the fabric, but if you use code TFF17 at checkout, you'll save $50!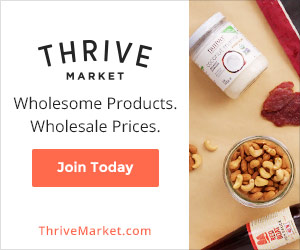 Thrive Market is my new obsession! It's like Costco meets Whole Foods. Popular baby brands, health foods, supplements, body products and more at wholesale prices! I was able to purchase a ton of products at cheaper than Amazon or Vitacost prices, which are the regular sites I purchase from. A year membership is just $59.95 and shipping is FREE on order of $49 or more!
Want to check it out before purchasing a membership?
Get 25% off + FREE Shipping on your first order!
Honest Beauty is finally available and I'm so excited to try it! I'm a huge fan of The Honest Company products, and I've been waiting so long for their skincare and makeup line to be released! Right now, get a 3-Piece Trial Skincare Set for FREE + $5.95 shipping & handling. This works the same way as the Honest Company trial offer, so make sure to cancel within 7 days of receiving your skincare set if you don't want to continue being billed.
Want some delicious, healthy, FREE snacks delivered right to your front door? Right now, Graze is offering new customers their first box absolutely free! Just head on over to Graze.com, sign up and your first box will be delivered in about a week!
Please note that by ordering your free box, you are signing up for regular recurring deliveries. However, you can cancel at anytime easily online by signing into your account. Cancel before the second box ships and you won't be charged anything.
Tip: When deals like this come up, I always add an event in my calendar on my phone with the customer service number and set the reminder for a few days before the last day to cancel. This allows me to try deals without worry of forgetting to cancel!
I'm always updating this list, so if you have a freebie you'd like for me to add, comment below or send me an email at ThriftyFamilyFinds@gmail.com
– Ally D.
Looking for great deals on baby products? Here are a few of my current favorites:

$8.74 + Free Shipping: Summer Infant Plush Changing Pad Covers!

Stork Craft Hoop Glider & Ottoman Set For $129 + FREE Shipping!
Save
Save
Save
Save
Save
Save
Save
Save
Save
Save
Save
Save